Signal Processing
Signal Processing
From Load Cells to Instruments,
We Get You There
Transcell bridges the gap from load cell configurations to your measurement instruments, including displays, data capturing, or digital I/O systems. Our team of engineers designs solutions for analog, digital, and wireless signal processing.
Digital Outputs
Digital Outputs
Solutions Configured for Your Workflow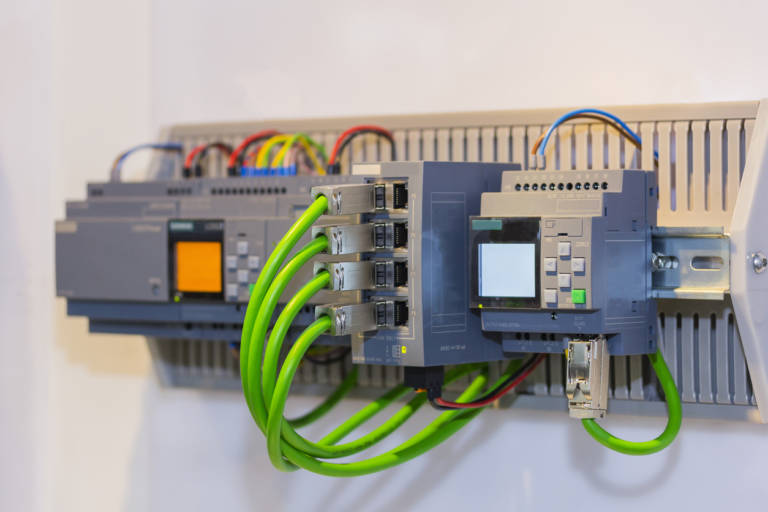 Our digital output solutions work the way you work within your technology stack. Everything just works, eliminating noise, creating strong signals, and converting to the format you need.
RS-232 – A 9-pin digital serial connection to a computer, PCL, or simple data logger
Isolated RS-232 – Eliminates signal noise and protects computers from voltage from improper grounding and common-mode transient events.
RS-485 – A Modbus protocol interface that serves multiple devices attached to the same bus with output to USB, GSM, or Ethernet ports.
Isolated RS-285 – Features an "intelligent" mode for converting full duplex data between RS-232 to RS-422/RS-485.
USB – The port supplies power to a force transducer, digitizes the analog signal, and serves as a communication protocol.
Ethernet IP – Interface converts the analog signal and transmits digital data serially via EtherNet/IP (EIP). The device uses an XPort embedded device server which appears as an EtherNet/IP slave on a network.
Modbus TCP/IP – A serial communications protocol for use with programmable logic controllers (PCLs).
Profibus DP – The protocol communicates between field load cells and control systems or controllers. The platform is based on RS485 and the EN-5017 European standard and handles wired, wireless, and fiber optic transmission.
PROFINET – The versatile and secure Ethernet interface handles precise, ultra-fast industrial communication for industrial applications. It supports communication through IO controllers and IO receivers.
CAN bus – A Controller Area Network (CAN bus) eliminates the need for multiple signal wires or computers to manage complex serial communications.
Digital Wireless
Digital Wireless
Wireless Measuring and Capturing
We pioneered Bluetooth load cell connectivity for transmitting weight and force data. Our wireless solution delivers accurate information quickly and reliably for remote locations, mobile devices, logistics, or other applications when cables can't be extended.

Bluetooth 2.0 – For load cell applications that require data speeds of up to 3 Mbps.
Bluetooth 4.0 – The wireless serial protocol, also known as Bluetooth Low Energy or Bluetooth Smart, requires less energy with a transfer rate of 1 Mbps.
Analog Output
Analog Output
Converting Signals into Complex Applications
Our engineering team helps you incorporate signal conditioners and converters into high-level signals that are commonly compatible with advanced applications, DAQ, and PLC.
4-20mA
12±8mA
0-24mA
0-5V
±5V
0-10V
±10V
Digital I/O
Digital I/O
The Logical Solution for Automation
From simple to complex, we help you configure digital I/O logic interfaces directly from your load cell for your automated applications.


Common Production Automation Applications
Conveyor weighing and routing
Food & beverage packaging
Agricultural feeding systems
Overflow, over-fill alarms